Providing adjustable beamwidth from 60 to 120 degrees combined with great isolation performance, the new titanium sectors provide additional scalability and noise immunity performance in hi-noise environments and co-location deployments.
Advanced Carrier-Class PtMP Basestation Antenna
Introducing the airMAX Titanium Sector, which continues the evolution of Ubiquiti's best-in-class sector antennas. Advanced RF isolation and variable beamwidth configuration put the Titanium Sector at the forefront of sector antenna technology.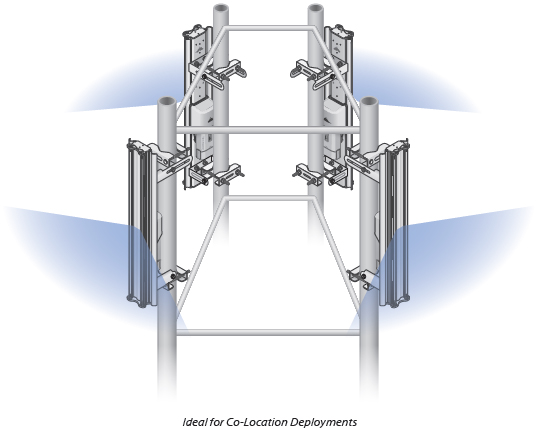 Reduced Co-Location Interference
Drawing on Ubiquiti's depth of electrical and mechanical engineering expertise, Ubiquiti has developed the airMAX Titanium Sector to be highly resistant to noise interference in co-location deployments.
Adjustable Beamwidth Configuration
Having adjustable beamwidth options enhances scalability and streamlines inventory. The airMAX Titanium Sector may be custom configured for any deployment requiring a 60˚, 90˚, or 120˚ sector.
Antenna gain increases respectively with each decrease in beamwidth.
AM-V2G-Ti: 17 dBi (60°), 16 dBi (90°), 15 dBi (120°)
AM-V5G-Ti: 21 dBi (60°), 20 dBi (90°), 16 dBi (120°)
AM-M-V5G-Ti: 17 dBi (60°), 16 dBi (90°), 15 dBi (120°)
Increased Performance
The airMAX Titanium Sector was specifically engineered for optimal performance when paired with a Rocket™M Titanium.
20% increase in performance with PtMP networks
Up to 90% performance improvement in a co-location environment
Increased durability in harsh weather
Easily Mount and Protect Your Rocket
The Titanium Sector has an integrated Rocket mount that allows you to mount the Rocket without the use of any tools. The custom-designed Protective Shroud helps to shield your Rocket from the elements.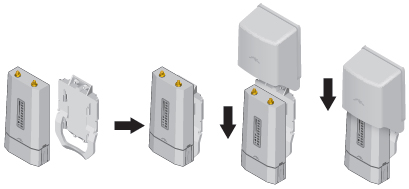 Utilize airMAX Technology*

Unlike the standard WiFi protocol, Ubiquiti's Time Division Multiple Access (TDMA) airMAX protocol allows each client to send and receive data using pre-designated time slots scheduled by an intelligent AP controller.
This "time slot" method eliminates hidden node collisions and maximizes air time efficiency. It provides many magnitudes of performance improvements in latency, throughput, and scalability compared to all other outdoor systems in its class.
Intelligent QoS - Priority is given to voice/video seamless streaming.
Scalability - High capacity and scalability.
Long Distance - Capable of high-speed, carrier-class links.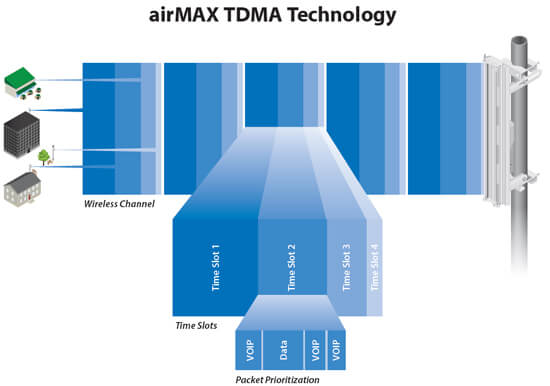 Up to 100 airMAX stations can be connected to an airMAX Sector; four airMAX
stations are shown to illustrate the general concept
*When Sectors is paired with Rocket M
There are no products to list in this category.